Establishing an efficient visitor management process in your company's lobby is an important step in ensuring a more secure facility. As part of that, visitor badges help you identify your visitors and increase onsite security. Within seconds, you can recognize unauthorized individuals in your building or know more about who they are.
---
Why badges?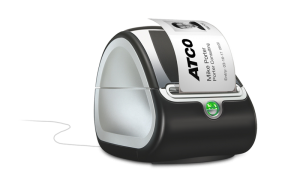 Manually issuing visitor badges can cost your receptionist a lot of time, not to mention a potential backlog of visitors waiting to be assisted in your lobby. With a visitor management system, you can automate badge printing as part of the sign-in process, and streamline the registration process for both employees and visitors.
Consider implementing ID badges at your facility for compliance and security purposes. Not only do badges offer an extra level of increased security, but may also be necessary for companies requiring ITAR or GDPR compliance.
By customizing your badges, you'll be able to position your company's brand in these small but powerful details. You should also be able to easily choose which visitor information you'd like to include on your badges.
What type of badge do I need?
In recent years, the market has grown to offer a wide range of solutions, including adhesive labels, self-expiring badges, more durable PVC cards, tags for re-use, and more. All these options present the challenge of finding the best choice. This simple requirement can turn into a complex and time-consuming task, involving research and decision-making. Below are some points to consider when selecting the right badge for your organization:
Event vs Office: Are you running an event or looking to improve your office reception?
Volume of Visitors: How many visitors are you expecting? Are they just staying for the day? Is timing a constraint?
Budget: Are you looking to keep cost as low as possible? Do you place great value on printing the badges in color?
Security & Audit: Do you need to meet specific audit requirements? Do you have security concerns and require a self-expiring solution?
Hardware Available: Do you already have printers and would like to match the solution to existing hardware capabilities?
What are popular badge options?
Labels
Labels are adhesive badges that a visitor can stick to their clothes. While you have the option to print on a simple sticker, it's highly recommended to print on a self-expiring, one-piece label. Self-expiring label solutions are available for the popular Epson and Brother badge printers. The visitor simply peels the sticker from the liner and folds a tab behind, rather than sticking a separate void label on the original badge. After 24 hours, a VOID image will automatically appear in red, discouraging unauthorized re-usage.
Advantages:
Increased security with self-expiring badges
Time savings at sign-in by printing on a one-piece badge solution
Low cost to print
Made of more durable material than standard sticky badges
Considerations:
Not re-usable: requires a new badge for each visit
Non-self-expiring labels could be used/worn again without authorization
Potentially too sticky for delicate clothing
Find out more details on self-expiring badges.
---
ID cards
Printing your visitor badges on a PVC card serves for more durable identification than traditional paper stickers. These PVC cards are weather-resistant, and can be worn with a cardholder, which is useful should your organizations require guests to be identifiable indoors and out. PVC cards are also helpful if you have visitors that will be at your facilities for more than one day; this way, visitors are able to hold on to their ID cards without having to visit your lobby for a second or third registration.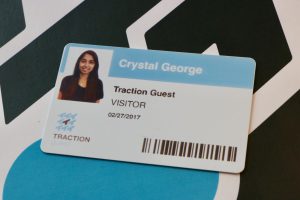 Advantages:
They are not adhesive, so they will not stick to clothing
Quick to print
One-piece solution
Very durable: good for longer-term or repeat visitors
Considerations:
Security: need to ensure that tags do not get passed on for misuse
Cost of printer & cards
---
Tags
Tags are non-adhesive and come in a variety of shapes and sizes. Visitors can either wear the badge tag with a lanyard or attach it to their clothes with a clip. Material options can vary; synthetic, paper, or stone-paper are some of the materials available. Tags are a two-piece solution: a see-through label is printed which the visitor (or receptionist) sticks onto a tag, making it a convenient and wearable identification for your visitors.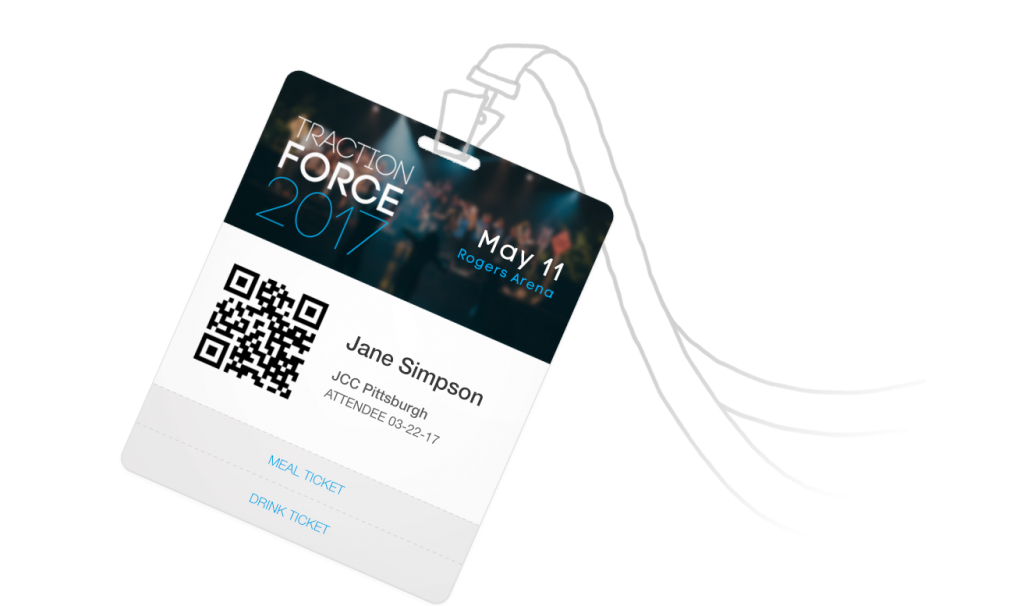 Advantages:
Tags don't stick to your clothes
More durable: useful for situations where other labels run the risk of getting damaged
Re-usable: more environmentally friendly. Useful for multi-day visits.
Option to add tearable section: e.g. for drink tickets or a special VIP session at an event
Convenient for events, especially if these last for several days.
Considerations:
Speed: adhesive labels are a faster option for daily sign-ins
Security: need to ensure that tags do not get passed on for misuse
Budget: tags are a two-piece which can result in higher cost
Unmanned reception: if you want to re-use tags, you need to ensure your visitors leave it behind.
---
What should my badge include?
There are several options available for the information you'd like displayed on your badge. The information can be as simple as the visitor's name, company, host, and date. Alternatively, more details can be included, like the type of visitor they are, or their purpose for visiting. For example, it may be helpful to differentiate someone visiting for an interview from an important customer.
Identification photos are another helpful option. By including a photo of the visitor on the badge, the visitor will be identifiable by anyone they encounter. Other information that could be considered for a badge is time of arrival, or QR code, which can contain an additional layer of security.
What printer should I use?
There are many options available for your badge printing needs. One of the more popular badge printers is the zero-ink Brother thermal label printers, which print in black and white, or black and red. The printer your organization decides to use depends on the type of badge solution you choose.
---
With all these options, the badge you choose depends on the necessities of your organization, and the way they will be used. By linking your options to a visitor management system, you can build multiple style badges for the different types of visitors in your building. For more information on how to integrate visitor badges in your visitor management process, get in touch.