Frontline
.
Easily automate your sign in process with the Frontline mobile app. Ensure the safety of your employees, visitors, contractors, and others who enter your buildings.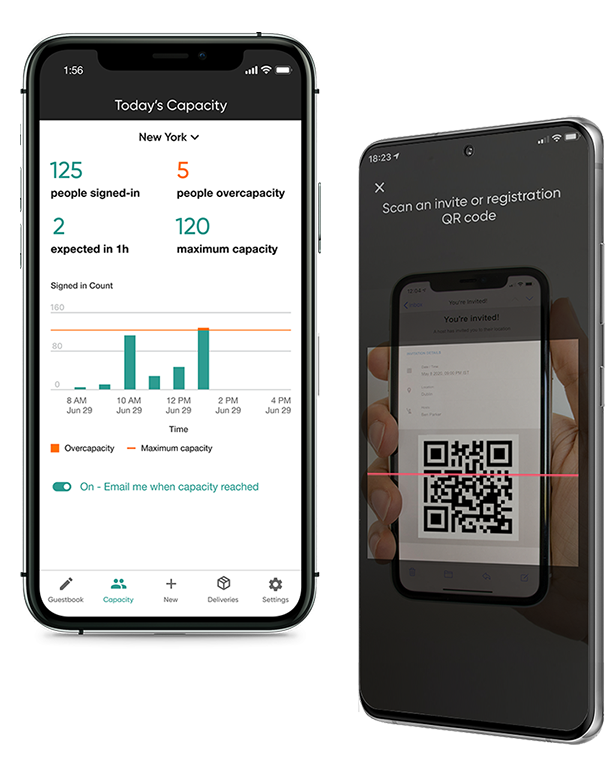 Protect the staff that protects your organization
.
Keep your employees safe - facilities, HR, EHS, security, reception, etc. All those responsible for engaging staff and contractors upon entry, enforcing safety measures to protect everyone onsite.
Focus on employee safety.
Frontline is a mobile app built specifically to address the needs of staff who must bring others onsite. It helps protect those who protect the organization by enabling remote and touch-free actions.
Enable proactive screening & site access.
Automate proactive safety screening, ensure PPE instructions and safety procedures are followed.
Streamline facility entry operations.
Enable efficient operations for employees dealing with deliveries, mass alerts, roll calls, and other on-site identities, access, and communications tasks.
Ensure the safety of employees and visitors
.
Enforce security protocols with platform and mobile features, built specifically to address the need of safely bringing employees, contractors, visitors, and contingent workers on-site.
Manage capacity.
Set up limits and track capacity for each location with on-site visit tracking in-app or in the Work.com command center.
Eliminate line-ups.
Efficiently schedule groups of employees or individual contractor or vendor appointments. Provide pre-approved single or multi-use QR codes for touchless sign-in.
Provide real-time alerts.
Show internal watchlist levels as guests are invited or are signing in, prompting appropriate action.
Frontline
solution features
.
Mobile
Mobile touchless or ZeroTouch™ contactless sign-in
Contact tracing
Roll call & mass notifications
Capacity management
Mobile delivery management
Platform
Individual or group invites
Named or capacity based appointments & invites
Pre-screening, safety instructions & sign offs via pre-registration portal
Custom integrations via API & trigger-based automations
See Frontline in action
.
See how the Sign In Enterprise Frontline can help keep your people and facilities safe and secure.