We all recognize the value visitor badges provide. Their core purpose is to instantly identify individuals while enhancing security at events and workplaces.
Despite their wide use in visitor management, we have found most solutions to be far from effective or user-friendly. Adhesive badges are often hard to remove and many visitors are apprehensive when adhering them to their clothes. Paper badges tend to easily tear. And if you use a more durable material, it introduces security risks around unauthorized visitors reusing discarded ones.
So, we looked at existing self-expiring badges. Most of them are two-part solutions that require you to peel off the front to then stick it on top of another back piece that will activate the expiration process. Not only does it require expensive ink but the process also seemed cumbersome. Knowing the importance of time when it comes to checking in visitors, we dismissed this as a viable option for most of our customers. We then looked at TAB-self-expiring badges as a one-piece solution but noticed that there was nothing available for the popular badge printers, the Epson C3500 and Brother QL-series.
We felt there was a need for improvement. We wanted a self-expiring one-piece design for easy activation that would fit the printers our customers like to use. We searched for the best supplier to co-innovate with and after many months of research and development, we are now proud to introduce you to our new TAB-self-expiring visitor badges.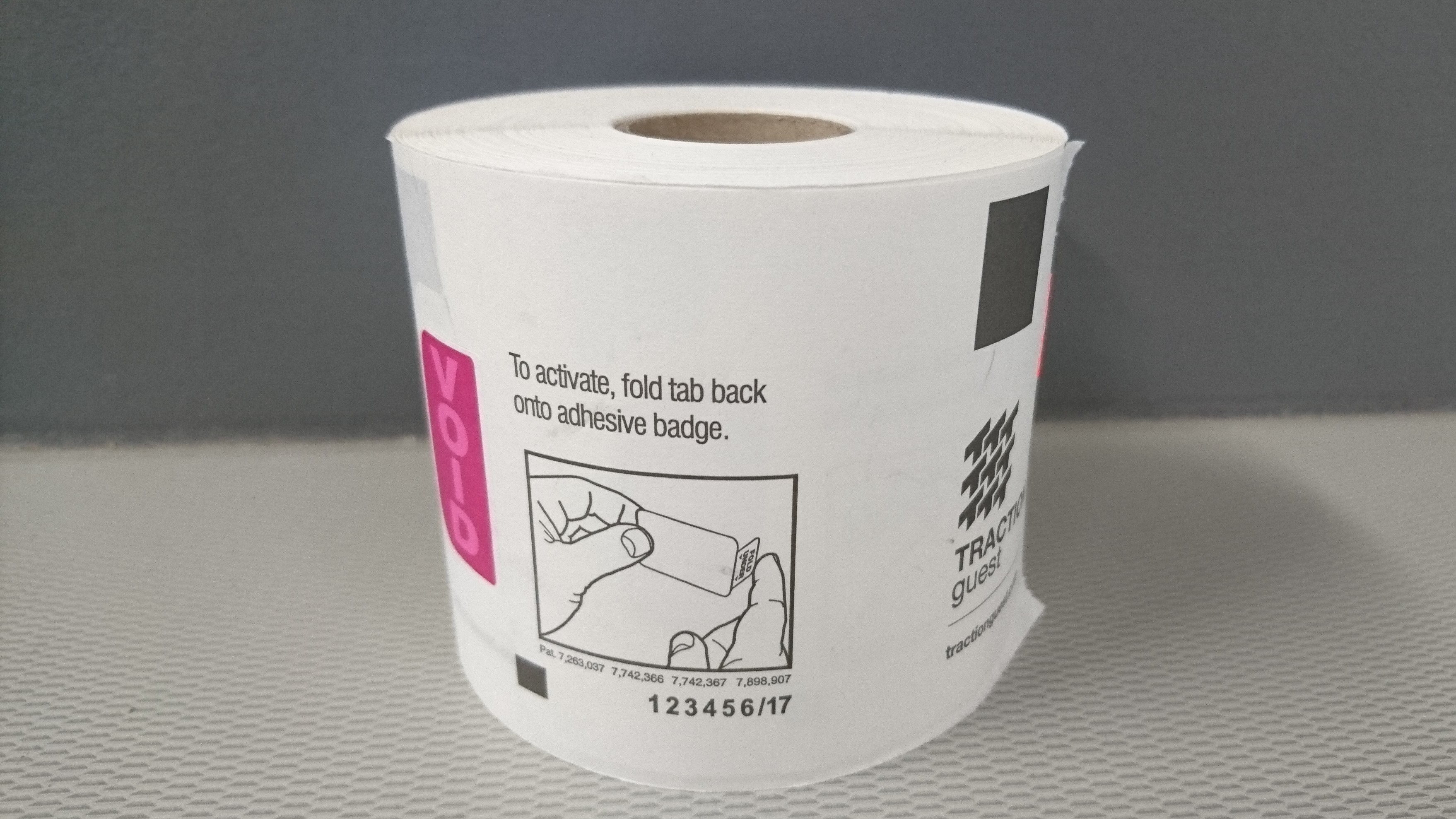 They are proprietary to the combination of the Sign In Enterprise platform and the printers mentioned above. After weeks of optimizing and testing color saturation, text placement, and thermal output, we now have the badge that we are proud to offer customers.

We are really excited about this! And let us tell you why…
The new TAB-self-expiring badges are the only ones available for the popular Brother and Epson label printers!
1. Durable & Secure: you can now have a uniquely designed, adhesive badge label that is tear-resistant, waterproof, fabric-friendly, and self-expiring. You no longer need to worry if someone discards the badge inappropriately!
2. Easy & Quick: save time at sign-in by printing on a one-piece badge solution. After the visitor information is printed on your badge, your visitor simply peels it from the liner and folds the tab behind. After 24 hours a VOID image will automatically appear in red, discouraging unauthorized re-usage.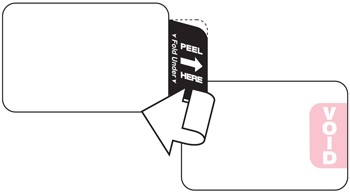 3. Unique to Sign In Enterprise: with the Sign In Enterprise Badge Editor you can customize templates with HTML and adapt to the badge size appropriate for the spool. Our free software Guest Print allows you to then connect to the tested printers.
To give you a bit of background on how we got here:
We are always looking for innovative suppliers and went out to search for one to co-develop with. We had to come up with a spool that would suit the popular label printers and integrate with the Badge Editor. We then started the testing to ensure the best result for both the color and thermal printer. For the Epson color printer, the challenge was to optimize ink saturation so it wouldn't blur or smear. Equally, we had to ensure the thermal printing technology would support the bleed-through after 24 hours to indicate that the badge is void. We then advanced the Badge Editor on the Sign In Enterprise Visitor Management Platform and tested the printing with our software Guest print. It was quite a journey but we are happy that we can enable our customers to improve their visitor badges!

And it won't end here: we will continue to test and report back on other printers that test well with these labels.
Interested?
Get in touch if you want to order TAB-self-expiring badges that work with the Guest platform and the Brother QL-series and Epson C3500 printers.
To find out more about how to improve your visitor badges, read this article.