By Keith MetcalfeCEO Sign In Enterprise
Recently, Salesforce announced its low-code workflow tool, Salesforce Flow. This update will allow users the ability for integrated workflows between enterprise solutions they currently use. But what exactly is low-code? And how does it relate to Visitor Management Systems (VMS)?
Low-code is the new buzzword in the technology sector. In the simplest terms, a low-code solution requires little to no coding to build applications. These solutions use easy-to-visualize, drag-and-drop interfaces in place of extensive "under the hood" coding, done by a developer.
Salesforce isn't the only technology juggernaut to see this emerging trend. Our post-pandemic world is experiencing an incredible shortage of skilled developers. While talent wars are being forged to recruit and retain top talent, business users crave solutions to their problems. Low-code technology is aspirationally designed to allow virtually anyone to be their own developer.

Companies like Salesforce and Sign In Enterprise are leading the innovation by creating platforms users can easily use to meet their unique business requirements. These solutions provide hope for quick deployment, and it's something we should be paying attention to; according to Gartner, 70 percent of new applications developed by enterprises will use low-code technologies by 2025.
Built by you, for you
Sign In Enterprise's platform provides the most advanced enterprise visitor management system, with health and safety controls, critical outreach and alerting, as well as analytics and auditing functionality. It's used across dozens of highly regulated and security-conscious industries so people can collaborate safely and securely, with confidence. With low-code technology, users can develop with no lag time that's associated with traditional vendor development cycles.
When a security professional deploys a visitor management system, they undoubtedly encounter unique configurations based on location, compliance regulations, and specific corporate requirements. When standard configurations don't address site needs, the client works with their solution provider to build out these requirements. Then they wait for the software developers to write the code needed. The development process depends on the priority in the cumulative development queue, and must be tested prior to each deployment.
The concept of a low-code solution has always been a primary focus for Sign In Enterprise. We've always believed that every site and visitor is unique. For the best experience, users need to be able to provision and modify the tailored visit experience. Anything short of this results in a substandard experience and low adoption follows.
At Sign In Enterprise, we believed from day one that customers need to be able to build their own application. With the Experience Workflow Editor, users can configure their own unique visitor experience. Companies are able to personalize messaging based on their desired workflow simply by clicking and dragging components within the platform. Full customization of the visitor experience is possible—all with their own branding.
The low-code movement has become more prevalent, as business users have shown that they can build powerful applications to meet their unique business needs. Take scanning visitors' IDs on arrival. If companies are required by law to scan IDs as people enter their facility, they may be required for compliance reasons to check third-party databases and validate that the person does not pose any potential danger or risk. For example, in a school setting, background checks for visitors are crucial to ensure safety. Checking third-party applications to run background checks could be delayed or interrupted with a real-time validation service.
A low-code platform allows users to build their own dedicated workflows. It also allows users to add the safeguards needed to protect from unwanted visitors. Our Experience Workflow Editor allows for easy and seamless trigger actions/alerts, automates checks against watchlists, or sends automated notifications directly to security teams when an unwanted visitor signs in.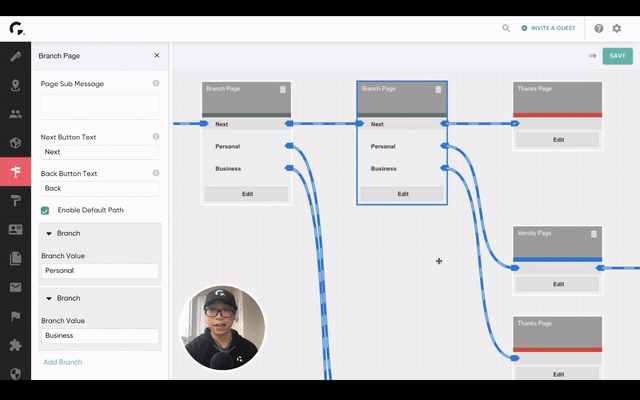 Every location, visitor and company is unique
When you consider a large, global, enterprise, multi-site company, it's important to recognize that each location likely has its own regional compliance regulations to comply with. It's also important to note these regulations will change.
Managing changing requirements can become an overwhelming task for a security leader to configure the visitor entry experience with multiple distinct locations. For example, legislative data collection and deletion policies vary between Europe and the US. If a company wanted to have different configurations, they would have to enable different options that may or may not be applicable to them. This can force users to find different vendors to support their regional needs. Besides the increased expense for multiple and disparate solutions, this poses a logistical challenge in regulated industries or companies where they must ensure quick access to this information in the event of an audit (for example SOC2 or ITAR).
Another reason why low-code is so fast to deploy is the concept of collaboration and reusability; as an example, take Sign In Enterprise's 'libraries'. Essentially, libraries allow users to store configurations and elements from one location and apply them to others. Instead of starting from square one when a user needs to build a new visitor experience, they can refer to their library for existing templates, and apply them to the new experience.
Consistent corporate branding is also an important consideration for companies. With a low-code VMS solution, users can easily build their visitor sign-in experience to represent the corporate look and feel, without the need to code the design elements for each and every aspect of the workflow. This is applicable to the kiosk, as well as email invitations, registration, confirmations, and so on.
Next-gen visitor management
Visitor Management Systems (VMS) has evolved over the past decade. What was once perceived as simple sign-in/sign-out tracking solutions for visitors (manual log books or kiosks) has developed into integrated, customized, low-code solutions that can meet today's complex security demands for leading enterprise organizations. Keeping visitors, employees, contractors, and contingent workers safe and secure is a top priority for everyone.
Companies are continually prioritizing compliance, security and data collection. The expectations are becoming more complex. Essentially, we are seeing the demand for a VMS solution go way past the lobby.
The COVID-19 pandemic has had a massive impact on how organizations get work done. It has shaken perceptions about which kinds of work arrangements and safety protocols are effective and achievable. Organizations now face questions about the future of workplace safety, as the return to traditional workplaces has uncovered many unforeseen and new risks in the age of the pandemic. New security measures are now required to protect on-site employees and contingent workforces with health screening questionnaires, vaccinations, or health attestations. Organizations will need to get deeply collaborative across the entire organization. They'll need to provide holistic security strategies, in response to the heightened privacy and safety standards that adapt to shifting external challenges. Whatever employers choose, inconsistent enforcement is a "recipe for disaster."
As Sign In Enterprise helped many companies navigate waves during COVID, we realized that the pandemic demonstrated how business requirements can change at a moment's notice. Our development team created solutions to help define the "new normal", such as ZeroTouch™ and Vaccine Verification Workflow & SMART® Health Card Integration. It was more important than ever that our clients be able to deploy these features as soon as possible.
Managing employee and visitor safety over the past two years created a new playbook. There is now industry recognition that situations can change in an instant, and users need to be able to adapt to these changes at a rapid pace, without compromising workflow.
The right approach
The Salesforce low-code workflow platform integrates many different solution partners—something familiar for Sign In Enterprise. With many different partner integrations, Sign In Enterprise users can easily and seamlessly integrate their enterprise solutions into our workflow. They can trust that we can serve their business requirements and meet their integrated platform needs across the organization.
As we enter this new phase of working environments, we are aware that VMS providers will continue to expand the category, and seamlessly integrate all the various aspects of visitor management into a single visitor experience. But at the core, this is still about enabling companies to have visibility and control over their visitors and employees, and in turn, providing safe and seamless entry experiences.
It's not about being customizable or configurable. It's about being able to build your own software solution. And that's the point.