The visitor experience starts before a guest enters a company's lobby. It starts with the invitation.
Anyone who has hosted work meetings knows it typically begins by checking their calendar availability. For organizations that use Google Cloud G Suite as an employee productivity platform, meetings are planned and coordinated in Google Calendar by adding time and meeting location information. This same information is used for setting up guest meetings in the Sign In Enterprise VMS.
The integration between Google Calendar and Sign In Enterprise simplifies the process. Now, employees can manage their visitor invites and meetings directly from their Google Calendar interface.
"Adding a simple step to an already familiar interface and process drives faster user adoption so that employees are compliant with their organization's visitor management policies," said Jordan Zhang, Product Manager at Sign In Enterprise.
Increased efficiency
With the integration, organizations are able to:
Take fewer steps - the invitation is created once and is recorded in both the Google Calendar and in Sign In Enterprise system
Work in a familiar environment - employees are working with a Google Calendar interface they already use, reducing the need for training on separate systems
Pre-register visitors - when an employee creates an invitation, the visitor's name is added into Sign In Enterprise's platform and can be set up to trigger watchlist verification or approval workflows
Synchronize calendar changes - when meetings are changed in Google Calendar, Sign In Enterprise updates visitor invitations accordingly (no duplicate entries)
How it works
Once the integration is configured, the process is similar to creating a regular calendar invitation. Sign In Enterprise is added as a resource, similar to adding a room to the invite. This synchronizes invite information with Sign In Enterprise.
Administrators can configure Google Calendar meetings to be set up in two ways: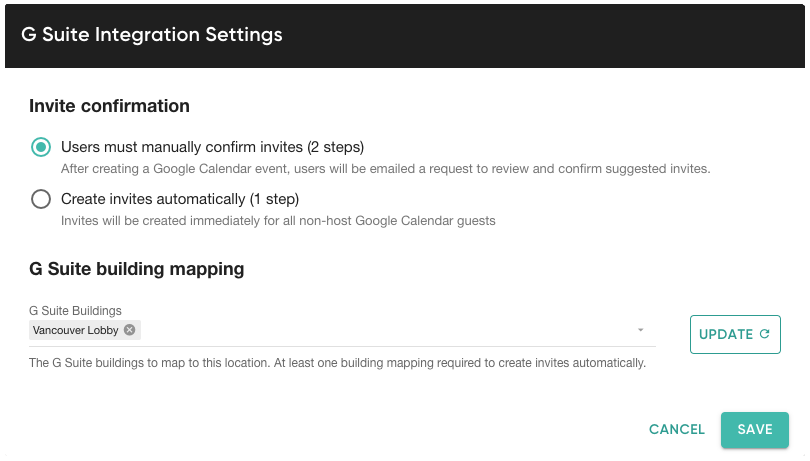 2-step process with a verification email sent to an organizer with an ability to confirm or edit locations and invitation templates.
or
1-step process where the meeting invite is created as soon as the Google Calendar invite is saved with a pre-determined location and email invitation template.
Here's what users will have to do:

Create a Google Calendar invite (room, time, guests selected) and add Sign In Enterprise as a resource
When the room is selected in the meeting, it will correspond with Sign In Enterprise locations
If the two-step process is set up, the meeting host will have to verify the invite details in the confirmation email before it gets created in the Sign In Enterprise VMS
Here's a detailed step-by-step guide on how to use Google Calendar to pre-register guests.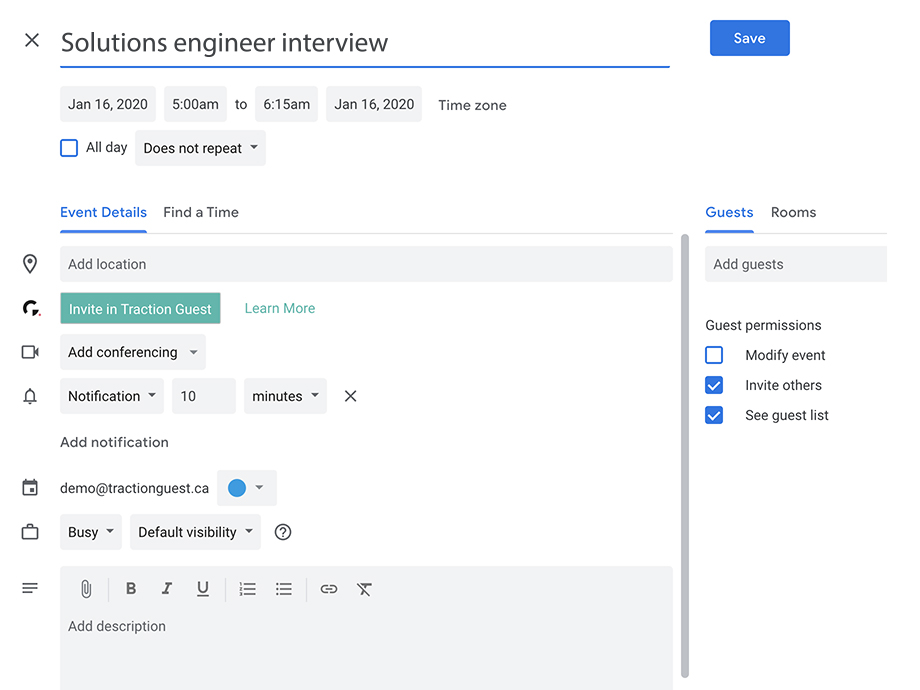 To streamline the process further, we recommend to install a Chrome extension- that will be embedded in the interface - so that the invite can be created in a simple click.

Admin advantages
Accessing Sign In Enterprise features from a familiar platform like Google Calendar is a convenient way for admins to streamline meeting logistics for both employees and guests. Admins can pre-define design templates to ensure that employees are sending out on-brand invitations to their guests. On top of aesthetics, admins have the ability to customize email templates by adding QR codes as well as providing directions and parking information.
Leveraging integrations like Google Calendar helps organizations to increase the adoption of visitor protocols and make life easier for employees and guests.
Related content: Behind the Features: Self ID Scanning
Related content: Google Calendar integration features page