Contractor Compliance
.
Integrate your contractor management process with Sign In Enterprise and Contractor Compliance to save time and reduce organizational risk.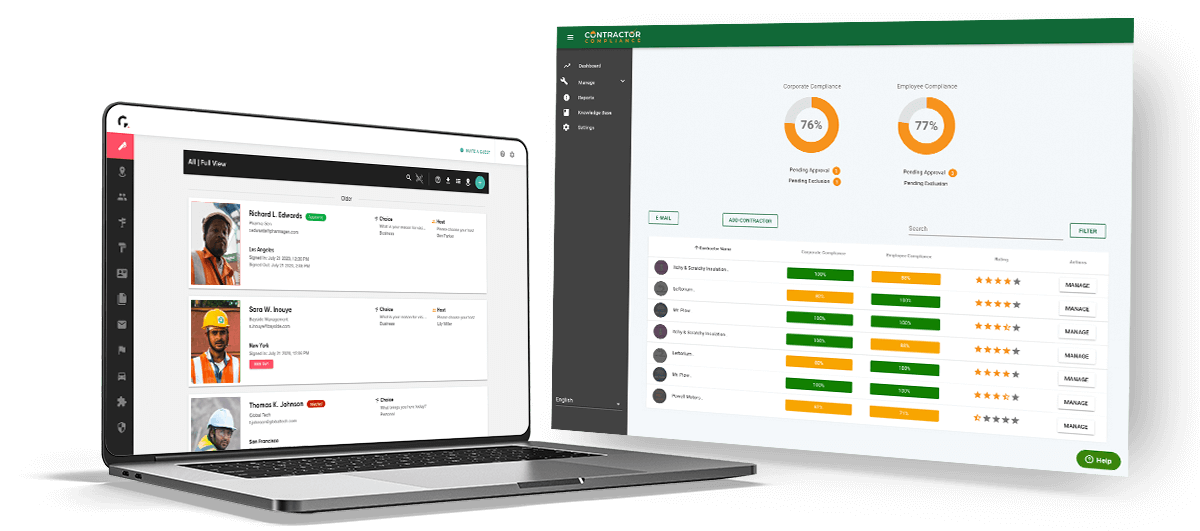 Benefits
.
Organizations have hundreds of non-employees to manage. Deliveries, facility repairs, cleaning/maintenance staff, break/fix, etc. Quickly distinguish between one-off visitors and ongoing contractors, and manage them seamlessly through one integrated solution.
Create an end-to-end experience.
Integrate Contractor Compliance with Sign In Enterprise to enable a more robust approach to manage contractors and extend processes before, during, and after site visits.
Improve responsiveness to new risks.
Quickly adapt to ever-changing policy requirements with no process lag or downtime. Quickly assess contractors against new requirements as needed.
Save time processing contractors.
Reduce operational time spent on determining contractor suitability. Quickly identify contractors requiring additional certifications, insurance waivers, NDAs, etc.
Create transparency across the supply chain.
Know exactly who's on-site, when, and where, providing complete visibility across your contractor supply chain. Support organizational requirements for post-visit data analytics, emergency notification, capacity planning, and contact tracing.
Reduce risk.
Reduce liability risks stemming from non-compliant contractors by quickly determining 'fit for duty' status upon entry (or before).
See Sign In Enterprise and Contractor Compliance in action
.
Work with our team of industry experts to explore how Sign In Enterprise and Contractor Compliance can support your organization's security, safety, and risk initiatives.
Fit for duty
.
Ensure contractors are fit for duty before entry on-site by automating confirmations related to:
Criminal background checks
Up-to-date certification / expirations
CWHIMS and other safety certifications
Corporate sign-offs: eg. NDA, liability waiver, etc.
Mandatory training: eg. Workplace violence, harassment, hygiene, etc.
Government documentation like W9
Health screening and vaccinations