Sign In Enterprise empowers businesses to create unique guest experiences with a cloud-based visitor management system.
We believe in innovation. And we believe people matter.

With the Visitor Management Award, we want to recognize technology-driven innovation that's enhancing visitor experiences. If you're using Sign In Enterprise to increase security, improve office efficiency or accomplish something incredible, we want to hear about it! Each month, we share a client story about how they've created a unique visitor experience.

We're excited to announce that the Visitor Management Award goes to Whippany Actuation Systems.
Who is Whippany Actuation Systems?
Founded in 1947, Whippany Actuation Systems has established itself as a leading manufacturer of aerospace motion control systems for civil and military applications. The over 114,000 square foot facility in Whippany, New Jersey, is their main center of business operations, designed to produce customized solutions to complex engineering needs.
What was their challenge?
With a focus on manufacturing, engineering and repairs, the organisation faces stringent audit requirements, including ITAR compliance. The U.S. government demands International Traffic in Arms Regulations (ITAR) compliance from defense services, manufacturers and those handling related technical data. Meeting regulations asked for change, including the way visitors are managed. Historically, the receptionist had to manually check visitors in, screen the individual against a third party watchlist using Visual Compliance and print a badge for identification. Efficiency and security are significant considerations, so Whippany started looking for a better way.
How did they solve it?
Whippany assigned a third party to search for a secure cloud-based visitor management system that would automate the registration process whilst meeting regulations. Truthfully, the requirements presented a new use case that needed significant platform development. No solution in the market offered the technical integration with the third party watchlist they were using. Similarly, they required a software that would print with the color label printer of their choice. When Sign In Enterprise was recommended to Whippany, a journey of collaboration began. They believed in the platform and our team. Sign In Enterprise believed in the value of their ideas and embarked on the development.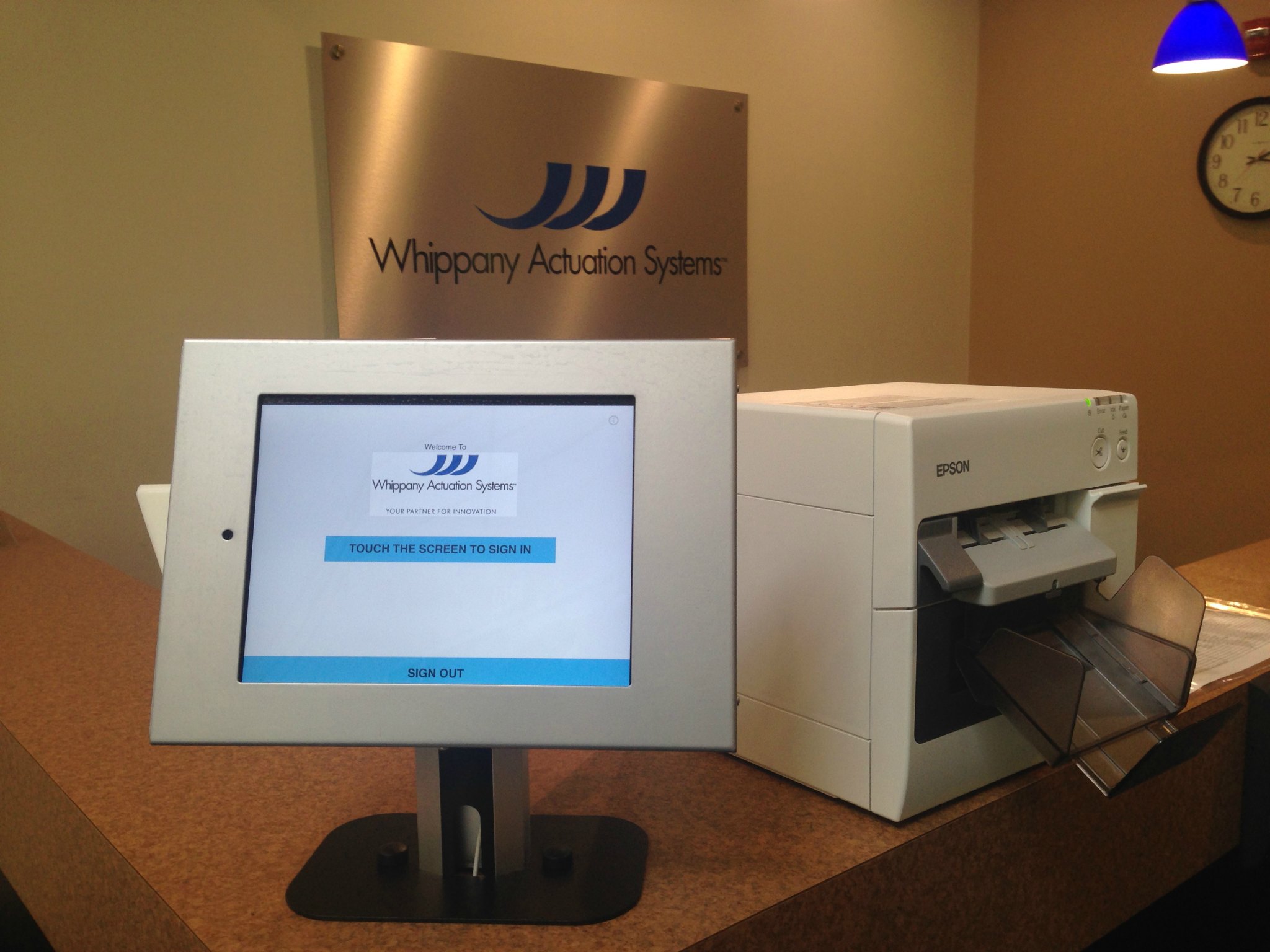 "Sign In Enterprise is extremely flexible while being easy to use. the system provides a simple user interface for registering guests configured through an easy-to-use graphic workflow screen. The company is in a rapid development mode continually enhancing the system with new capabilities and features." - David Rodman, Manager of Business Systems
What were the results?
Whippany has successfully implemented a visitor management system that increased their efficiency and security. Visitors can now easily be preregistered and instantly screened against watchlists for security. When they visit, an iPad scans their ID and checks personal information such as their citizenship. All data is immediately available in the digital log book and gets printed automatically onto the visitor badge. Not only are they proud of their new high tech appearance but they are set up for ITAR compliance with ease.
"We were able to deploy an "unmanned" kiosk while maintaining validation of background checks, visitor logging and dynamic badging for all of our visitors. This has been a significant productivity and cost saving addition for our firm." - David Rodman, Manager of Business Systems
Special thanks to Whippany for trusting in our development team. You have confidently bought ahead of our roadmap and driven innovation with your ideas. Your request has led to our new software GuestPrint and set the path for more watchlist integrations.
Want to get involved?
Our Customer Success team is excited to see how you use the Guest platform to improve and innovate on your visitor management process. Email our Customer Success Team to share your story for the next Visitor Management Award.