Companies around the world are beginning to reopen and bring employees back into the workplace while simultaneously taking on the monumental task of mitigating the spread of the coronavirus. In each geography – and in each individual organization – reopening can look very different.
In this new work environment, employee safety is a first priority. Businesses must now view visitors and employees as one universal risk management challenge as they focus on ensuring business continuity. Everyone is a guest – and everyone is a risk to each other. However, proactively managing employee and visitor safety while also being in compliance with regulations and each facility's level of risk tolerance introduces new challenges.
Helping Businesses Reopen the Workplace Safely
Sign In Enterprise's purpose was always to enable safe and secure work environments, which aligned with Salesforce's vision for Work.com and the partners selected to extend Work.com ecosystem. Sign In Enterprise was one of the three ISV vendors, specifically focused on riks, compliance and safety for the "back-on-site" solutions.
As Salesforce describes the new initiative, "Work.com includes new solutions to accelerate private and public sector response to the COVID-19 pandemic, including employee wellness assessment; shift management; contact tracing; emergency response management; and grants and volunteer management."
By integrating data streams from Salesforce and its trusted partners, including Sign In Enterprise, into Work.com, Salesforce is empowering organizations with a data-driven, 360-degree view of their readiness to bring people back into the workplace.
When identifying trusted ISV partners to participate in Work.com, Salesforce sought solutions around the key pillars of its back-to-work strategy, including enabling shift work and emergency response management, among other focus areas.
As many businesses reopen their doors in the coming months, or bring back employees that have been working from home, they will require;
A system of record to track who is onsite, the amount of people onsite in relation to site's capacity, real-time updates on individuals entering and leaving company's locations;
A way to easily communicate with employees and visitors before, during and after they arrive at a given location;
A means to proactively screen and inform of specific policies and procedures required for site access.
While best practices for coming back on site are universal, each company's requirements and risk tolerance are unique. Sign In Enterprise was designed to address a wide range of employee and visitor risk management scenarios. Data from the Sign In Enterprise platform can be automatically integrated into Salesforce to create a holistic view of the individual to maintain the safety of all. These data streams can include: who is entering the facility, if they meet the company's access requirements, when an individual will enter a company-owned facility and when they'll depart, with whom they'll interact, etc. These streams are tracked across the entire organization over time and stored as a single system of record.
Salesforce is known for being trailblazers in supporting businesses through social initiative and leading edge technologies. We are aligned with its vision for the return to work. In fact, Salesforce expertise and synergy are deeply rooted in Sign In Enterprise's DNA, and our integration into Work.com represents a further strengthening of the already substantial relationship between Salesforce and Sign In Enterprise. Sign In Enterprise was incubated by North America's largest independent Salesforce consulting partner and application development firm, Traction on Demand. Early members of the Sign In Enterprise team – from development to sales to executive leadership – were part of the Traction on Demand group and have best-of-breed training and understanding of the Salesforce platform and its ecosystem. Salesforce Ventures has also been a long-time investor in Sign In Enterprise.
Technology to Address Today's Needs and Adapt to What's Ahead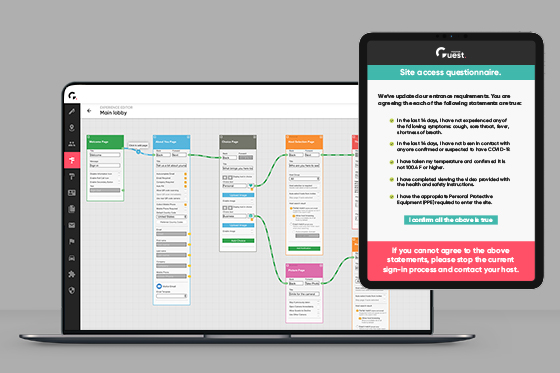 Sign In Enterprise is working closely with the Salesforce team to provide valuable guest risk management resources in the new workplace. From integrating employee and visitor data into Work.com command center, to driving further integration capabilities, to addressing the most complex use cases with platform capabilities and best-of-breed customizations. Sign In Enterprise will also continue working closely with the Traction on Demand team to provide world-class technology and services built on the Salesforce platform.
While much will change for businesses in the weeks and months ahead, some things will stay the same, including the desire for people to meet, interact and connect – it's core to being human. Sign In Enterprise is thrilled to help meet that need by providing the technology solutions businesses and employees need to return to work safely and securely in our new reality.