"This is a long way from the early days of VMS when the technology was initially seen as a novelty." - Keith Metcalfe, CEO, Sign In Enterprise
The state of visitor management is changing. At least that's what the people who manage visitors on a daily basis have been telling us.
Three years ago, Sign In Enterprise decided to poll various professions - from security to facilities to IT - to understand better how organizations host people at their sites. This annual study was the first industry report of its kind. The data collected over the past three years has shown a large shift in the way companies view and use visitor management systems (VMS).
The 2020 Visitor Management Report uncovered some compelling new trends - in security, efficiency, data, and brand perception - that are significantly impacting and shaping our industry.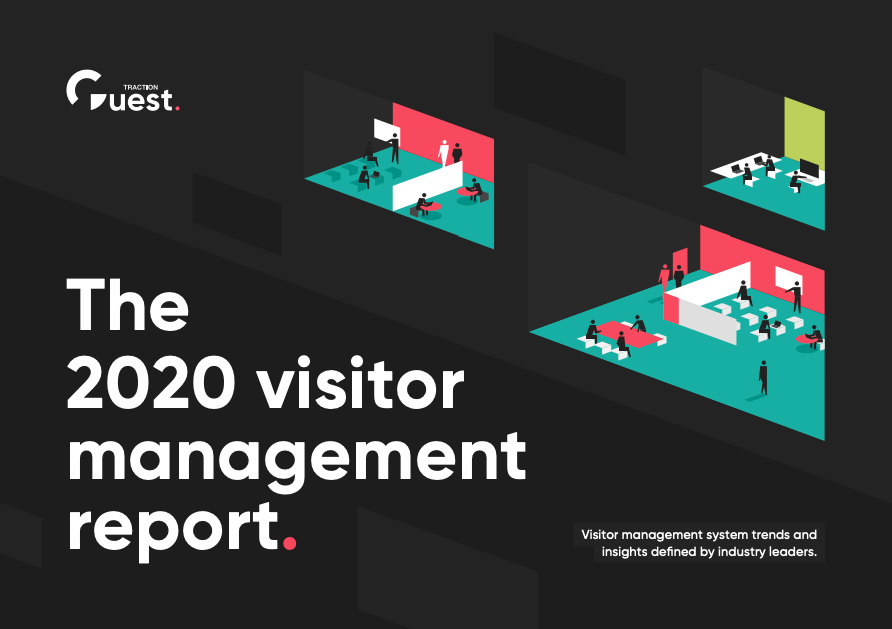 Managing visitors is more than a check-in, it's an entire process. Process that can be described by a cycle - full cycle of visit operations. Enterprises face multiple challenges when trying to improve the visitor experience while safeguarding their people, data, and facilities.
Organizations need to understand who is entering their facilities, reasons for the visit and when was the last time they were in their facility, if ever. Companies need to find efficient ways to not only check guests in and out, but they need to be able to effectively communicate with their guests, before, during, and after the visit. They also need data to help determine how to improve security and operational efficiency. In light of the current COVID-19 related environment, these challenges are not just impactful, they are mission-critical to company's operations.
Enterprises need to know who is accessing their locations worldwide in order to mitigate security threats, address outbreak safety protocols, consolidate evacuation procedures, and satisfy compliance requirements. Being able to implement access protocols and best practices around visitors gives organizations accountability and control.
Today, companies are realizing the importance of automating visitor management best practices with VMS. In fact, visitor management systems provide a very cost-effective backbone for enterprise-grade, scalable solutions increasing on-site security and facilitating compliance across multiple locations worldwide. Combined, with organization-wide adoption and executive support, what used to be a "nice-to-have" visitor check-in has today become an essential, enterprise-level visitor management practice.
With the research uncovered in the 2020 Visitor Management Survey, we have identified some key takeaways and predictions that we believe will be at the forefront of our industry in the coming years.
4 key takeaways
1. Growing expectations and complexity of VMS.
Today, global companies are viewing VMS as a mission-critical security and facility operations platform. In our survey, respondents ranked the importance of a VMS as an overwhelming 8.6 out of 10, with compliance and security as key benefits to an organization.
"We are seeing the customers getting bigger, the expectations of a VMS getting higher and the requirements becoming more complex," said Metcalfe. "In essence, we are seeing the demand for a VMS to go way past the lobby, past the site, past international borders."
2. VMS enhance workplace security.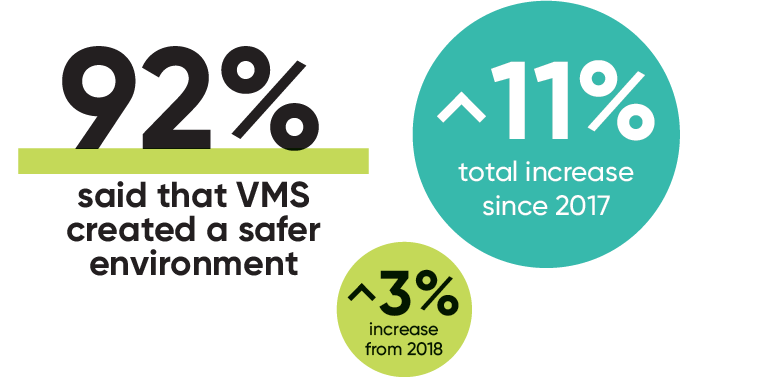 VMS are viewed as a crucial part of an organization's security strategy. This year, over 92% of respondents said that VMS create a safer environment. That is an 11% increase from 2017. Companies place a high emphasis on safeguarding their people, facilities, IP and data. With the ability to conduct background checks, place individuals on watchlists, verify IDs, sign documentation electronically, and create custom badges, organizations are gaining a right levels of insight into who is visiting their sites, when they visited, and why.
3. Organizations are standardizing VMS across sites.
The paper logbook is becoming obsolete. 61% of those surveyed in 2019 are using some visitor management system. Historically, companies were starting with a single location, often ending up with different systems implemented at various sites. The need for more orchestrated and centralized visitor processes, as well as better data management emerged. An overwhelming 94% of VMS users polled in 2019 stated their VMS increased efficiency for hosts and their guests.
"The rapid developments in visitor management technology coupled with the ability to centralize all visitor data across the globe into a single platform should encourage faster adoption," said Ryan St. Hilaire, VP of Product at Sign In Enterprise.
4. Optimizing efficiency beyond the lobby.
In the 2020 Visitor Management Report, the majority of those surveyed stated that they fully optimize their VMS. Companies are realizing that checking in guests is just a single part of the visitor journey. The visitor cycle starts before the visitor even steps foot on-site and continues during, and after the visit. Over 94% of the respondents in 2019 cited VMS increases efficiency. Also, 50% of respondents said that their check-in process was less than 30 seconds per guest.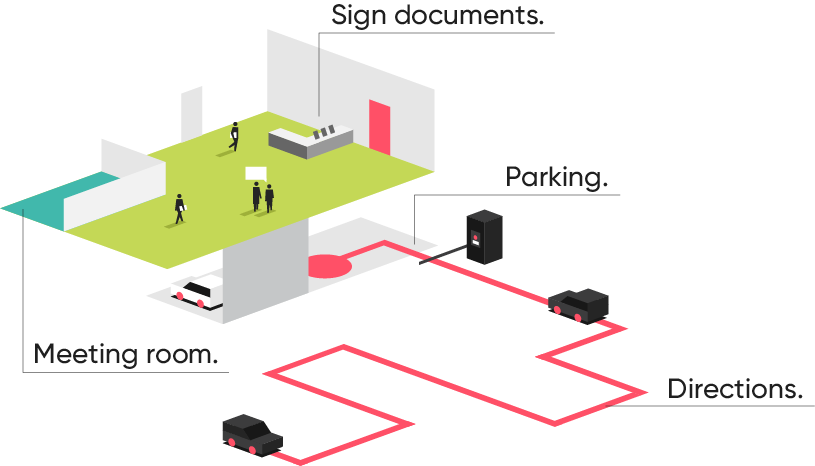 3 insights going forward
1. As regulatory requirements evolve, VMS will help companies adapt.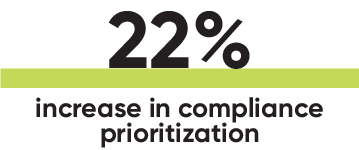 Compliance was the top reason to buy a VMS in 2019 according to our respondents. We saw a 22% increase in the demand for compliance in the 2019 survey. This is a trend we expect will continue in the coming year. When it comes to highly-regulated industries, we saw a growing trend in high-performing organizations leveraging compliance programs to improve their processes. 68% of respondents make their visitors sign documents at check-in (up 8% from last year). Visitor management systems for enterprises are about addressing compliance objectives immediately and adapting to changing regulations in the future, while respecting the implications of how visitor data is collected and maintained over time.
2. VMS will help leverage visitor identities as part of operations analytics.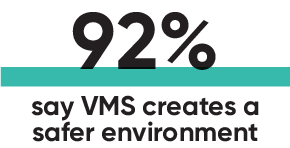 It used to be that government ID scanning and pre-screening were reserved for government-grade security checkpoints like borders and airports. Now, R&D facilities, manufacturing sites, tech corporate offices, and educational organizations are introducing proactive security measures. In 2019, watchlist requirements grew to 35% - a 9% increase from 2018. Being able to create visitor identities across multiple locations and regions protects companies from potential threats and known offenders. VMS will keep helping organizations gain a clear, consolidated view of who is entering their facilities and how to leverage that data to improve operations and enhance security.
3. Data collected from VMS will help mitigate risks for enterprises.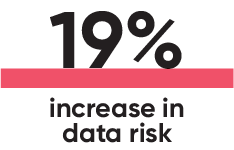 Data is critical to organizations - both collecting and protecting it. Over 96% of surveyed in 2019 said their VMS provided them with important data. That is a 7% increase from the year before. At the same time, companies are also concerned about safeguarding their data (IP, financial statements, or employee and visitor information). 63% of respondents in 2019 said they are worried about data security (vs. 44% the year before). Enterprises are leveraging VMS to mitigate the risk associated with the visitors present at their facilities.
Entering the next decade, there is significant research to suggest the longevity of VMS. What we learn year after year of conducting this survey is that the VMS category is constantly evolving as companies are viewing effective visitor management as mission critical. We look forward to witnessing this year's trends positively impacting the professionals who implement this technology daily.
"At the core, this is still about enabling companies to have visibility and control over their visitors, and in turn, providing safe and seamless experiences for their guests.," said Metcalfe. "As leaders in this race, we plan on continuing to push the limits of enterprise visitor management and improve the experience for our customers and their guests."