Before the COVID-19 pandemic, managing facilities access across locations often prioritized convenience first, safety second. As we continue to navigate these waters, uncharted in modern times, we're seeing "safety first, convenience second" sweep across industries.
In our new reality where both visitors and employees must be perceived as one universal enterprise risk management challenge, the invite-first culture has arrived. On-site check-in without prior vetting of access requirements no longer meets the necessary new standard for risk mitigation. The process of entry and egress must also entail secure, fully contactless screening and access capabilities. This inspired the development of our new ZeroTouch™ capabilities, including the Dynamic Registration Portal and Touchless Sign-in / Sign-out, to help you manage the return of guests – i.e., both employees and visitors – to the physical workplace as the global economy begins to re-open.
These capabilities are closely aligned with Salesforce's vision for its Work.com ecosystem to enable businesses and organizations to get back to productivity safely and efficiently. As the only visitor management system (VMS) vetted by Salesforce for security and interoperability with Salesforce's AppExchange ecosystem, we are providing the enterprise standard platform for managing visitors and employees as they return to the workplace. We're partnering closely with business technology leaders to bring invite-first culture to life, providing proactive screening and safety education before anyone sets foot on-site. We know that reopening will be a journey, and we are determined to help build connection in the new contactless world.
Can't Touch This: ZeroTouch Delivers Secure, Fully Contactless Screening and Site Access
Ensuring employee safety is a top priority as businesses come back on premises. Contactless sign-in and sign-out are no longer an option, but a health-standards-driven requirement. Moreover, the need for many organizations to manage multiple employees or visitors signing into their facilities at the same time calls for a solution for managing visitor queues in a way that promotes healthy physical distancing.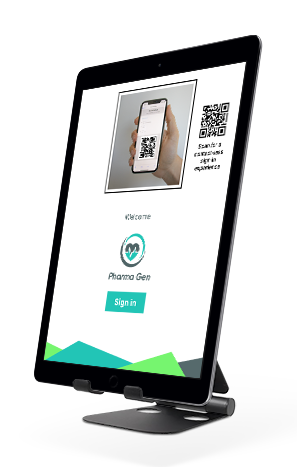 From manufacturing sites, to pharma offices, to corporate headquarters in high tech and every industry, Sign In Enterprise eliminates human or device physical contact at entry points. This addresses the urgent need – sparked by COVID-19-related laws (and fears) – to enforce new processes for both employees and visitors entering and exiting a facility. No two locations across an organization are alike. Security and EHS leaders are faced with different safety protocols, security restrictions and compliance requirements, all of which keep changing as government mandates are updated. To stay on top of all of this complexity, the Dynamic Registration Portal is built to be fully customizable to the needs of different locations and visitor types. The portal is engineered with the same approach our Experience editor is built, i.e., to enable the widest range of use cases: administrators can use a low-code drag-and-drop environment to build flows for different visitor types and location needs. The level of flexibility supports even the most sophisticated sign-in requirements and scales easily to multiple locations.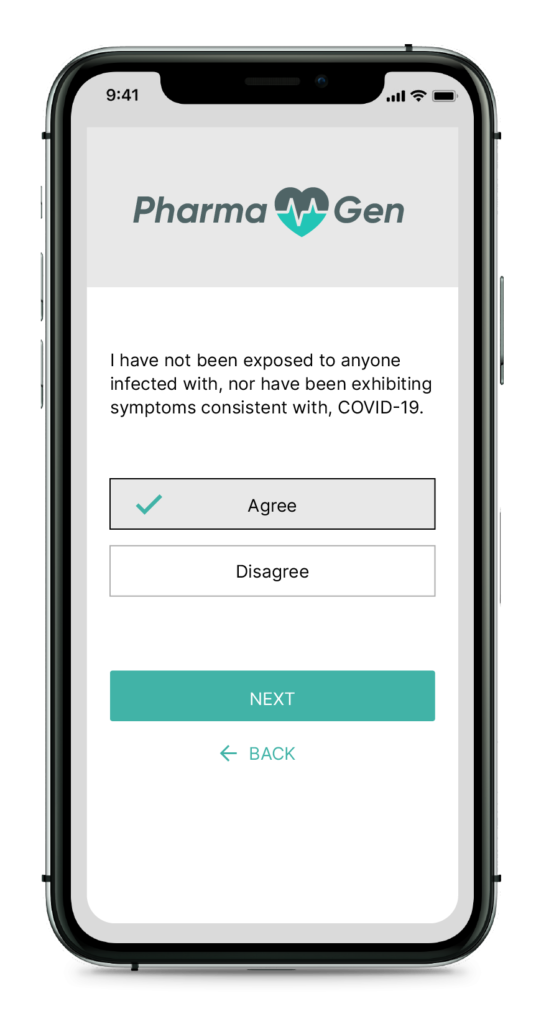 An employee or a visitor completes the sign-in flow ahead of the visit – answering screening questionnaires, reviewing safety standards and signing documents from the comfort of their home. If access criteria are met, a QR code confirmation is emailed. This email is then used to complete the sign-in process on-site with a single scan of the QR code. The result is that only pre-screened and pre-approved visitors are able to enter the facilities; there are no line-ups at the entry points and an organization retains an auditable track record of pre-screened visits. Let's take a look at some examples.
Managing Gradual Re-entry of Employees Into Offices via ZeroTouch Dynamic Registration Portal
Working with global tech companies, we've helped address gradual re-entry scenarios in regions at different COVID stages. With the introduction of the Dynamic Registration Portal, it becomes possible to proactively manage phased on-site re-introduction based on geographical health advisories and site security levels. Now site administrators can create advanced security protocols and pre-screening processes via the Dynamic Registration Portal ahead of employees or visitors accessing facilities. On-site invites are issued to groups of employees to come into specific office locations at a predetermined time.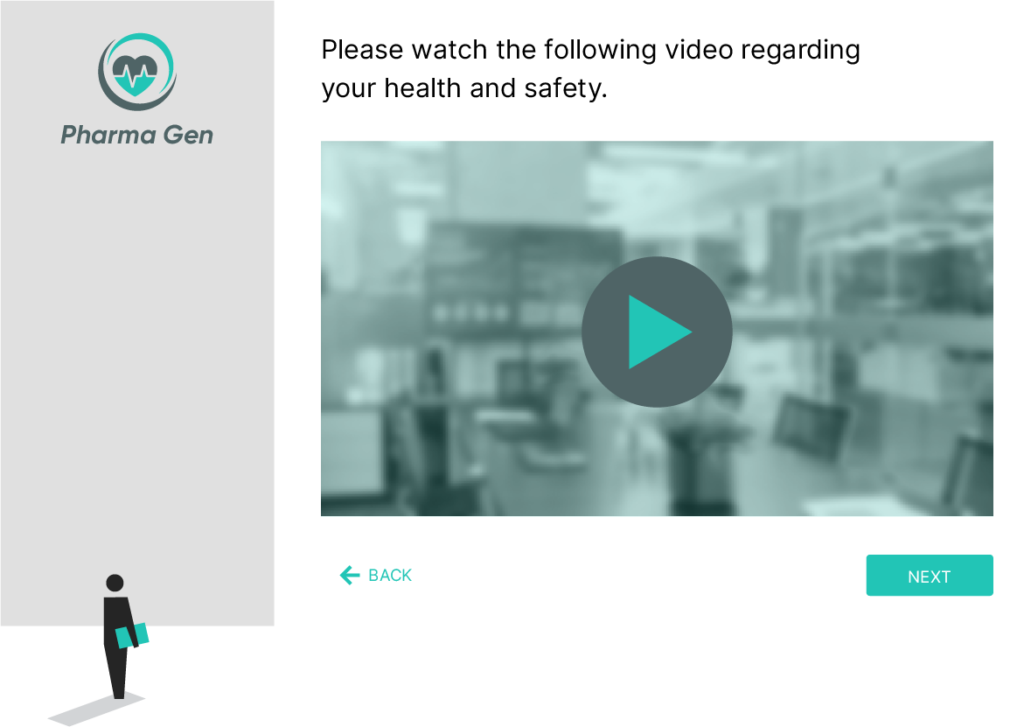 Employees and essential contractors and visitors are also asked to register via the portal to confirm health safety screening, safety procedure awareness and having PPE such as masks and sanitizers available. This allows visitors and employees to enter and exit a building safely, securely and pre-screened for criteria including places to which they have traveled recently, symptoms and temperature checks. Sign In Enterprise becomes a system of record for tracking that guests were provided with health best practices information, for approvals of health and contact exposure screenings, and to maintain entry and exit records for invited employees and visitors.
How a Global Pharma Company Can Comply with Health Advisories and Meet Social Distancing Requirements
Global pharma companies need a way to enable employees and visitors to sign in and enter facilities without interacting with reception staff or physically touching communal registration iPads or other devices. They also need to comply with regional health advisories and follow social distancing requirements, reducing line-ups and the amount of people potentially signing in at the same time in the lobby.
Sign In Enterprise's single-QR-code-scan entry provides pharma companies with an automated point of entry that is faster and safer because it removes the requirement for any employee interaction, physical or otherwise. This minimizes possible risks of disease transmission by doing away with frequently touched surfaces like iPad kiosks, creating a contactless sign-in that does not require a company's employees to manually sign in guests, streamlining check-in time at the lobby to avoid bottlenecks, and helping to manage phased re-entry to on-site operations, eliminating potential queues or crowds.
Visitors and employees are asked to register via the Sign In Enterprise registration portal confirming their awareness of health safety screening and safety procedures. QR codes are then sent to individuals who meet the access requirements for safe entry into the facilities. Companies also have the ability to invite guests in groups to come on-site at a specific time and sign in with a single QR code scan, eliminating crowded lobbies. Sign-in times are tracked to provide a record of the number of people at the facility and to provide proof of spaced-out entry.
Helping Bring People Together Again While Mitigating Risk
Employee and visitor safety is our first priority here at Sign In Enterprise, and we're focused on helping customers respond to the COVID-19 crisis in real time. Now with our ZeroTouch advancements you can seamlessly manage the return of both employees and visitors to the physical workplace and better protect currently-open locations amidst the pandemic. You'll also be better equipped to handle future outbreaks (should a second wave of COVID-19 occur) and can develop more robust strategies to address future events.
Our team is always looking for ways to bring you the most sophisticated and customizable solutions to ensure a productive and safe enterprise workplace. The world needs human connection now more than ever, and helping people come together again safely is our mission.