Lately, we've been answering this question for a lot of customers: what's the difference between a workforce security app and a platform?
What's going on here?
We created the Workforce Security Platform that would support our belief that all locations and visitors are unique.  An app by itself would require us to redevelop the experience for every visitor.  The result would be a hopeless feeling of not being able to spend more money and time to alter the application and, in turn, frustrated visitors.
In order to avoid failure we determined our platform had to allow for the following:
checking in a visitor without a host actually having to physically be there
presenting the visitor with two (or more) language choices
seeing the visitor in "real time" in all the locations they visit
inserting different legal documents for a variety of visitors
identifying visitors promptly and creating distinct badges
Many applications have fallen in the face of these kinds of requirements. For us it became evident early that a platform was the only answer.
Sounds good, tell me more about this Workforce Security Platform you speak of....
No servers please
Sign In Enterprise is cloud based. That means no servers, no network holes and no application maintenance.  Download Sign In Enterprise from the Apple Store on an iPad or iPad mini sign up for on our website for an account, link the two and you're ready to begin.  If you make a change to improve the customer experience, unlike an app, all of our iPads update automatically (no calls to technical resources needed).
Make the UI look like you
Branding is key to adoption.  If it doesn't look like or represent your location, users won't enjoy it, and those who are tasked with building the company brand will hate it.  Our Workforce Security Platform allows a non-technical user to flex their creative skills.  Company images, slideshows, logos and color code matching can all be changed with a couple of clicks.
Configuration without developers
Our Workforce Security Platform now includes the SecureFlow Experience Editor.  This puts configuration in the hands of the users. An admin can design and configure what they'd like a visitor to interact with. The admin can present visitors with customized questions, documents to sign, hosts they like to notify (by email and text) and more.  If visitors complain, the admin can make the changes on the fly and see their response.  Once the admin finds an experience that works they can save, copy, and repurpose it to other locations.  By the way our admins, need no technical experience and can hit the ground running fast.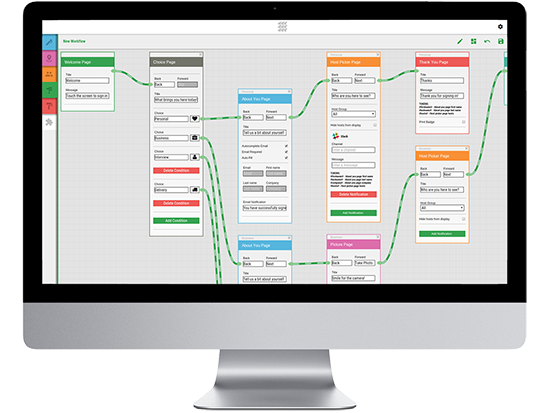 Our platform interacts with your company systems
No manual entry of employee directories required.  We can update your directory as much as it changes on a scheduled basis.  Want to capture data in Salesforce?  Interact with internal notification systems like Slack?  Our platform does all this and more.
The bigger picture:
Apps vs platform, who cares?  We wanted to take a moment to share our beliefs about how important this topic is.  We'll continue to update you on features and future releases that build on the notion that customer experience key.
Do you have any questions or comments on this subject? Connect with us here. Start a free trial of Sign In Enterprise to see our platform in action.