Salesforce is the world's leading customer relationship management (CRM) platform. It allows businesses to manage their sales, marketing, service and other functions in a single cloud-based environment. Being able to easily log, manage, and analyze customer data, empowers businesses to understand needs, solve problems, and identify opportunities. While Salesforce is widely adopted to capture customer interactions, physical visits to office locations and events are often lost.
The Sign In Enterprise visitor management platform has released a Salesforce Field Mapping integration to address this gap. The new feature allows visitor data to be directly integrated into the Salesforce platform. This means that real-time data from lobbies and events can be used to enrich our view of customers and prospects, as well as create a better understanding of their overall relationship with the companies that they buy from.
The administrators can create custom form fields in Sign In Enterprise's Experience Editor to tailor the sign-in experience by asking appropriate questions for each visitor. Sign In Enterprise's Salesforce Field Mapping integration then gives you the ability to push visitor data into the Salesforce environment for future analysis or immediate actions.
Here are a few examples:
Tradeshow check-in: When checking-in visitors at an event, you can immediately indicate if they would like to know more about your products. With the Salesforce Field Mapping integration, a new Lead is automatically created in Salesforce's Sales Cloud, allowing your Sales team to instantly identify new prospects. You can also use the data in Salesforce's Marketing Cloud to send targeted, collateral to booth visitors before they talk to your competitors.
Service Center notifications: When using a visitor management system at a Service Center, you can ask your visitors what they need help with or why they came. This data can automatically be sent to Salesforce Service Cloud by logging (or updating) a case. Alerts can then be sent to an available service representative or queue. A confirmation e-mail with ticket number and other information can instantly be sent back to the visitor.
Lobby visits: Link an "on-site visit"-Activity to your Contacts in Salesforce. You include this information to see if your sales team's face-to-face meetings really close more deals.
Let's dive into the first use case to show you how the Sign In Enterprise Salesforce Data Mapping integration works.
Close More Business from Tradeshows
You are at a tradeshow and want to capture information about people who are dropping by your booth. How do you know if they're just there for your branded swag, or if they are actually interested in doing business with you? With Sign In Enterprise, you can ask visitors for contact information like their name, email address, and company. Maybe you'd like to probe a bit more to see how much they know about your company and what they might be interested in hearing more about.
1. Create your Experience
You can quickly set up a unique sign-in flow (experience) with the Sign In Enterprise Experience Editor to ask your selected questions. It will look something like this: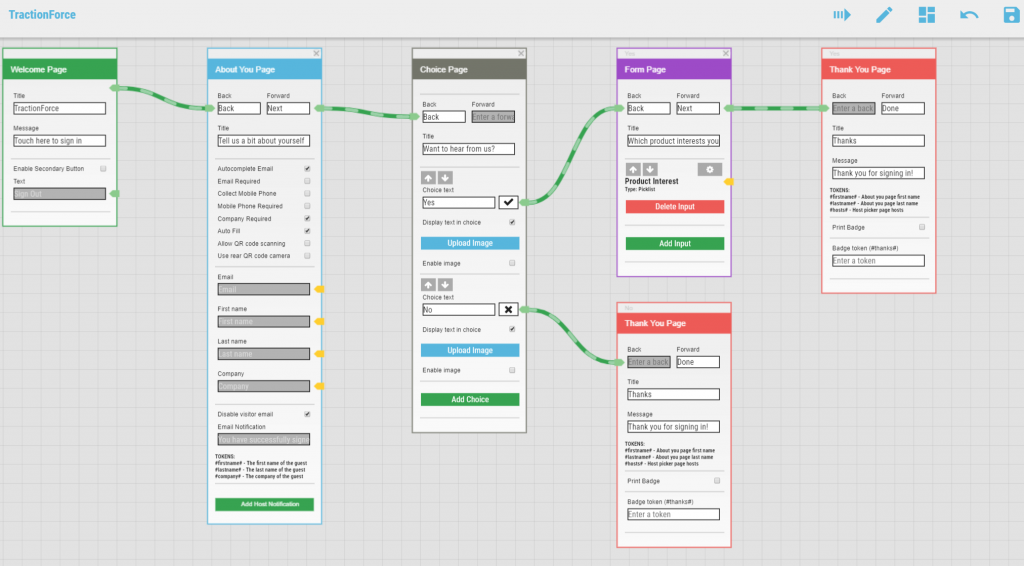 In this Experience we are asking for basic contact information, whether or not the visitor wants to hear from us, and if so, what they are interested in. The point is to keep a tradeshow sign-in quick and easy so you can talk to as many people as possible and remember them in the future.
After enabling Sign In Enterprise's Salesforce Field Mapping integration, you can add in a Salesforce Action to map your visitor's answers to fields in Salesforce. As visitors at a tradeshow are expressing interest in your business, you can create or update data in form of a Lead.
The below screenshot shows the admin view after the Salesforce Action has been added to the experience, which is set to Insert a Lead with the information captured in the About You and Form pages. If you want, you also have the ability to Update, Upsert, Find, or Delete records as well, but we will keep things simple for this example.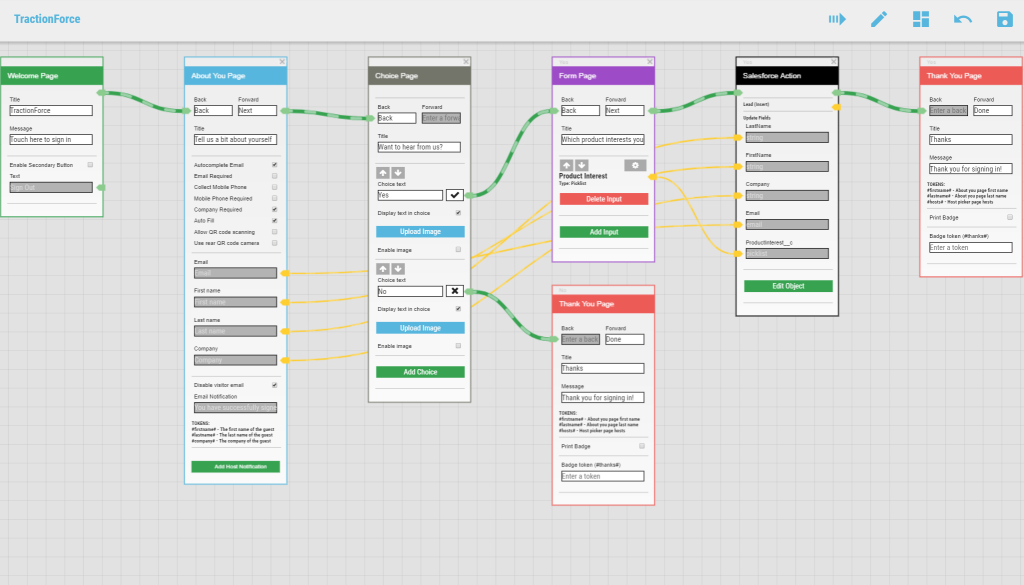 2. Guest at the Tradeshow
Here's what your visitors will see when they sign in at the booth on your iPads – nice and simple.
3. Live Tradeshow Data in Salesforce
Here's what you'll see on the Salesforce side, immediately after your visitor signs in: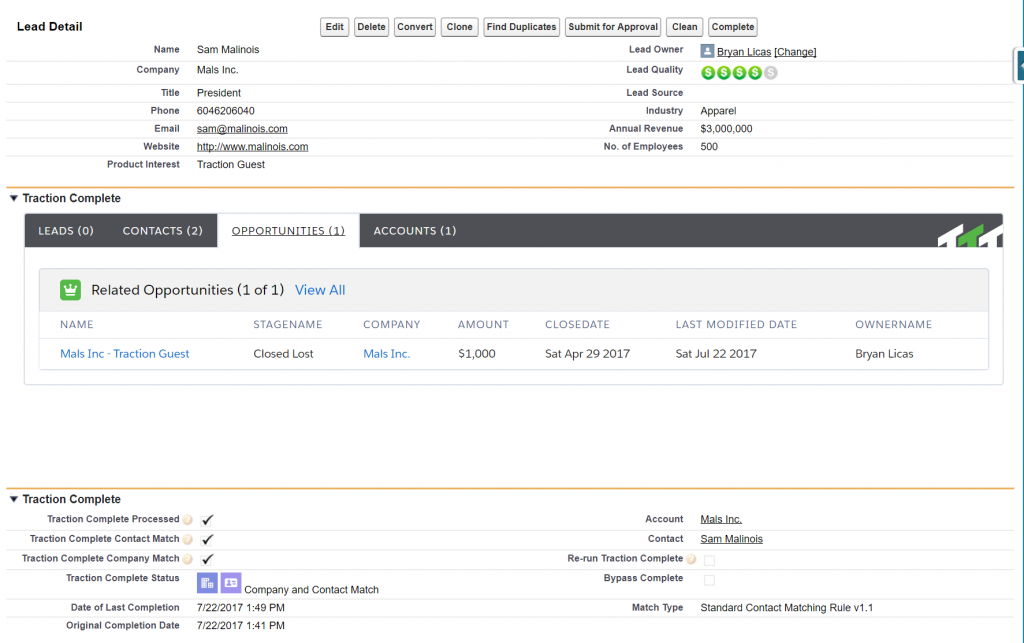 Sign In Enterprise has created a new lead with Sam's name, company, email, and product interest from his submission on the iPad within a few seconds.
From here, you can use a product like Traction Complete to search for an existing relationship in Salesforce, which can be seen in this case. Finding an Account and Contact match with Traction Complete allows you to instantly add data to your leads for better routing and to help with your Account Based Marketing and Sales strategy. If you targeted Mals Inc. in your ABM efforts, you can now send off the relevant communication to Sam with your Salesforce-integrated Marketing Automation tool.
In this case, you can see that Sam from Mals Inc. was in a sales cycle for Sign In Enterprise a few months ago. He was abandoned as Closed Lost, but based on your live event data, you know that it is time to re-engage with this hot lead!
All of this is happening within seconds after Sam signed in at your booth. He won't forget about meeting you at the event and you will have a better chance of closing the deal as you were able to immediately capture data in Salesforce.
The flexibility of Sign In Enterprise's Experience Editor tied to the advanced Salesforce Field Mapping integration allows you to address simple and complex use cases where you want to capture in-person data and act on it. If your company is already using Salesforce, you can enhance your visitor management and sales processes by implementing the Sign In Enterprise platform. Contact our Sales team for more information and to book a demo.
Traction on Demand, Sign In Enterprise's parent company, began in 2007 as a cloud app development and implementation shop working with over 25 of North America's largest technology companies. Since then, Traction, a platinum Salesforce Partner, has completed over 4000 Salesforce.com projects for over 1100 customers, including more than 500 custom applications! Naturally, that expertise made its way into Sign In Enterprise, giving our customers the best native Salesforce integration available for any Visitor Management System.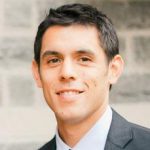 Written by Bryan Licas, Customer Success Manager at Sign In Enterprise.